"The surface that is in front of the painter is not necessarily empty. It has its own presence and its own structure which can have a certain beauty, if the surface can be seen as a form itself. And in a realistic approach to painting it is a form itself. This is why, in my painting, the process does not begin with the application of paint on a surface, but rather with the material of the surface and the construction of the surface itself."
(Robert Ryman in conversation with Urs Raussmüller)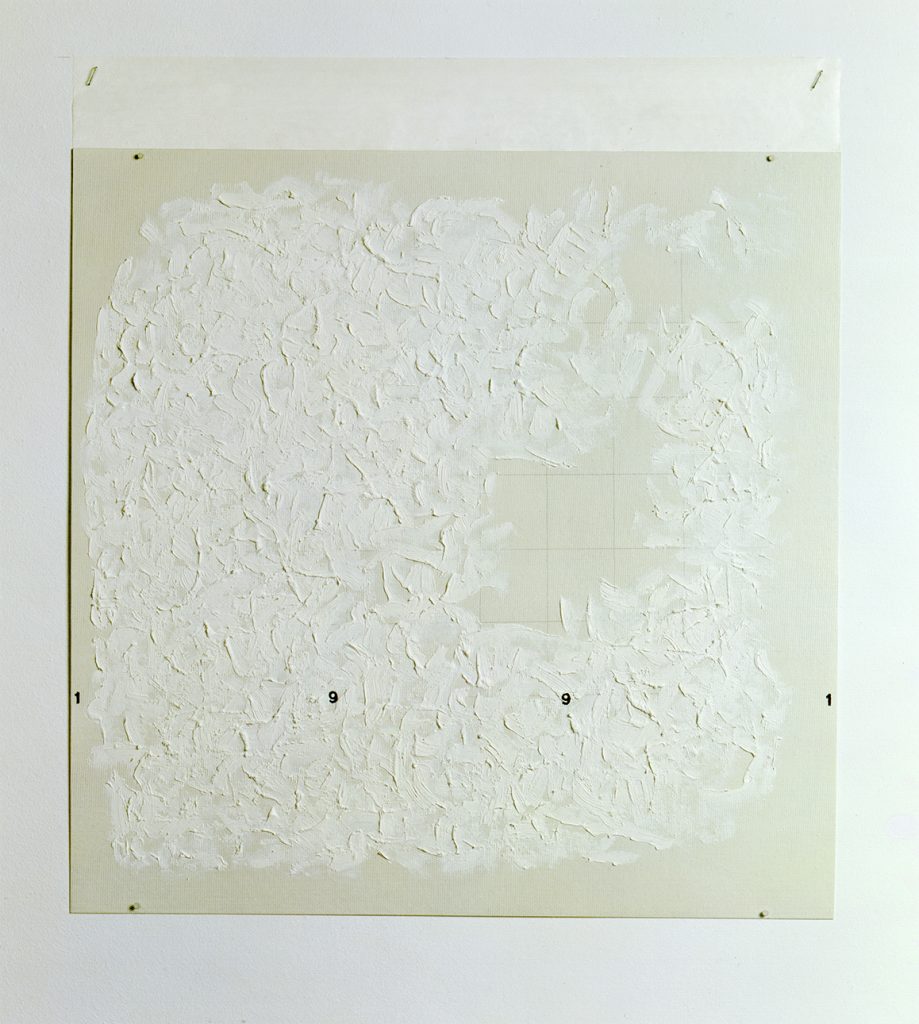 In his Versions, Robert Ryman – according to that principle – used all parts of the painting to create something whole that directly approaches the viewers. All elements of the painting are consciously joined to one aesthetic impression: The structured support made of very thin fiberglass, slightly primed by Ryman; the overlayed grid of fine pencil lines, the remarkably lively but still open application of oil paint, the dating or signature; even the mostly white painted nails fixing the painting to the wall are not hammered in fully in order to leave a dark shadow on the painting surface as another compositorial element.
On the top edge Ryman attaches a strip of wax paper, coming out under the fiberglass and casually stapled to the wall. The soft reflections of the wax paper extend even more the wide range of light absorption and reflection on the painting surface and gives the works a movement towards the spectator.
The 16 works that form the Versions, made between 1991 and 1992, exist independently as individual works and have been exhibited for the first time in 1992 in the Hallen für Neue Kunst Schaffhausen, followed by an exhibition at the Pace Gallery in New York. The corresponding catalogue with a text by Christel Raussmüller and a conversation with Robert Ryman and Urs Raussmüller as well as illustrations of the Versions can be found in our Bookshop.