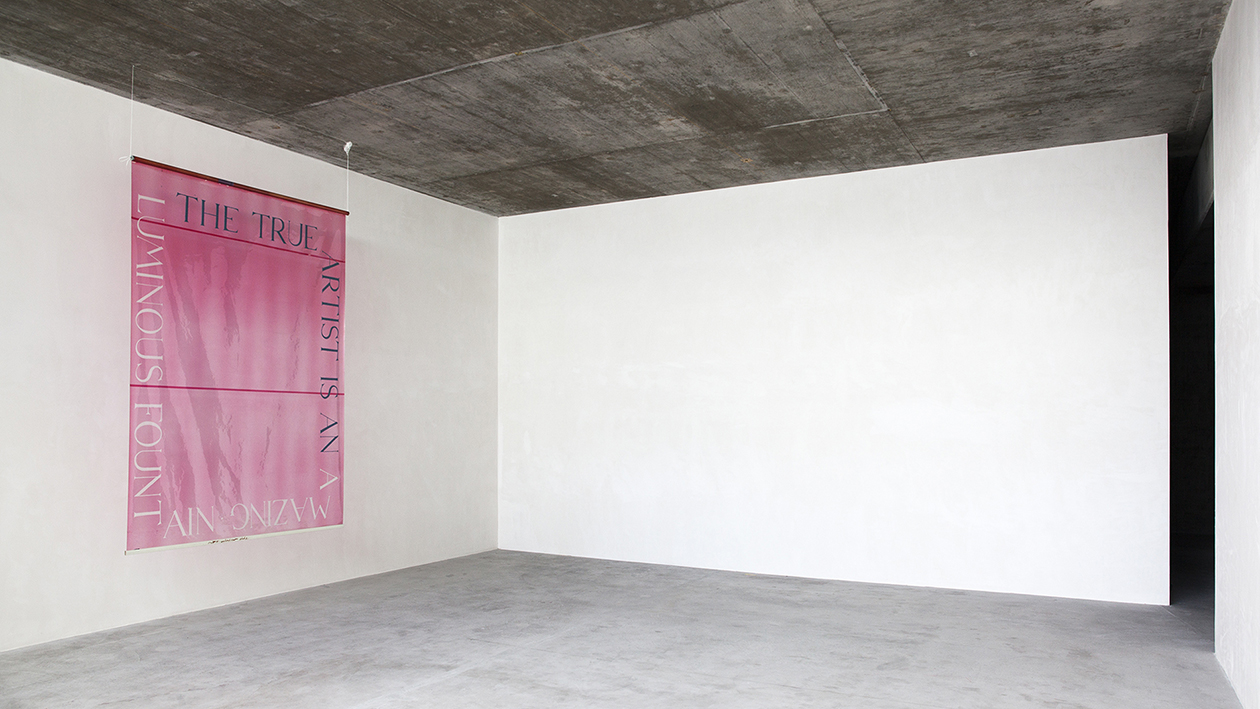 The True Artist Is an Amazing Luminous Fountain (Window or Wall Shade) is the first major piece in which Bruce Nauman worked with the medium of text. Like a confession, it proclaims the influential artist's early interest in language and meaning – in making statements that are all the more challenging because their substance cannot immediately be deciphered. Nauman bought a standard multi-stop roller blind measuring 8 feet long and 6 feet wide and consisting of three horizontally-joined sheets of pink-coated Mylar, that he made the support for a cryptic statement about the nature of the artist: around its edges he wrote, in an attractive serif font, the sentence THE TRUE ARTIST IS AN AMAZING LUMINOUS FOUNTAIN.
What the young Nauman first put forward as a hypothesis on a window blind in 1966, he himself subsequently confirmed. In the first volume of our new series of publications Being an Artist: Bruce Nauman, Christel Sauer approaches the artist and his work through descriptions and classifications of benchmark individual works. Her texts each depart from a major work and open up, from different standpoints, access to the artist, his thinking and his way of working. Each essay offers a key to the understanding of a specific theme and can be read independently of the other texts. Together the chapters provide an in-depth insight into the complexity and scope that distinguish the oeuvre of this ground-breaking artist.
The informatively illustrated publication will be published in German and English in Spring 2018. Subscribe to our e-mail-news to get immediately notified!